Propose solutions more than products, show empathy while avoiding false notes…. With the coronavirus crisis, brands and companies must adapt quickly in a highly uncertain economic environment.
What are the impacts of this crisis on consumer behaviour and marketing? How should brands adapt their communication and anticipate future developments?
So many topics that our antipod team shares with you in this new Com-Covid article.
Disrupted consumption behaviours
The difficulties associated with the situation are having a strong impact on consumers, whose morale is affected by strong concerns about their employment and finances in the coming months.
Their behaviour and their consumption needs are then largely modified, and for several weeks now, we have seen a real return to essential.
Consumers prioritize their spending on food, health and hygiene primarily. Spending on entertainment and leisure "at home" also continues, to the detriment of the tourism, textile and sports industries.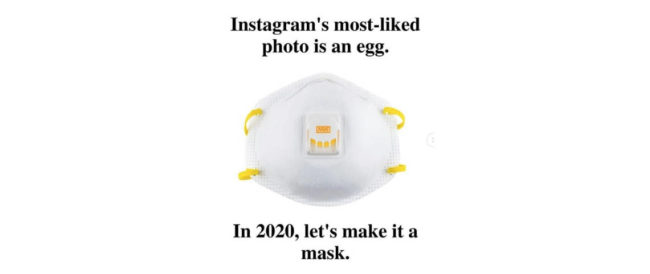 Online searches of hotels and clothing sites have given way to searches for information about the situation, "confinement", "masks" and "respirators" are now in the top Google Trends. Due to the closure of shops, online orders and e-commerce have exploded since the start of the lockdown, but in parallel with this phenomenon, research concerning local shops is also experiencing a sharp increase: users are looking for information on opening times of shops, but also on the possibilities of home delivery or pick-up at the point of sale. Click & collect services have seen a 400% increase since the onset of the crisis, as have home food applications and services that benefit greatly from containment.
As you can see, the needs of consumers are different during this crisis, and new trends are emerging.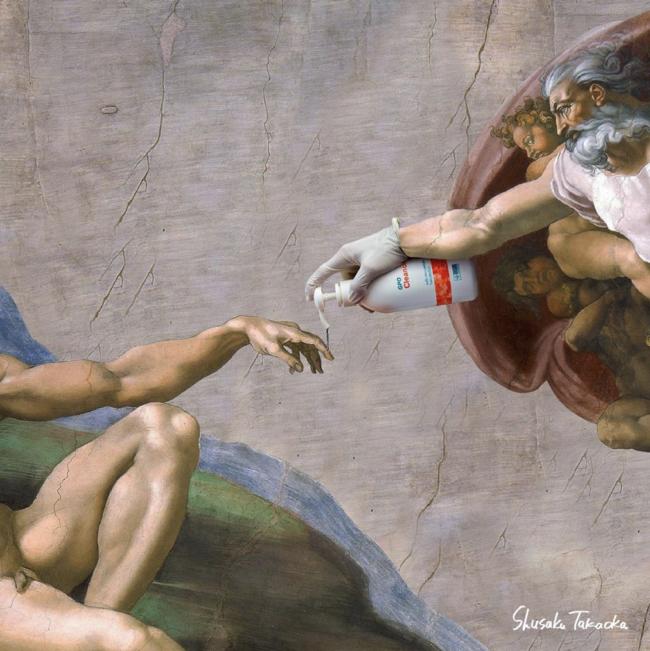 Care rather than sell – what are the new expectations of brands?
The Edelman Trust Barometer conducted an on-line survey between March 23 and March 26, 2020 among 12,000 respondents across 12 countries around the world – India, China, Italy, Brazil, South Korea, South Africa, Japan, Canada, UK, US, France, Germany. It highlights the main expectations consumers have for brands during this period:
Companies must

TAKE RESPONSIBILITY

.
62% of consumers today believe that brands must engage in this crisis and take the necessary initiatives to help and support their country. 55% of them even think that brands are more effective than governments in dealing with this health and economic crisis.
For consumers, brands must also make a commitment to help them by offering useful products that serve the community. 89% of them also want brands to offer cheaper products to help those most affected by this crisis.
Brands have a duty to

INFORM

and

E

DUCATE

.
85% of consumers today believe that brands should be a reliable source of information amidst the thousands of information circulating. Brands are then expected to act as mentors, to provide useful advice on how to protect themselves, but also to keep busy during this time. While brands often play an entertainment role through social networks, they are now expected to play a strong and important educational role for society.
Brands must provide

EMOTIONAL

and

COMMUNITY SUPPORT

.
While consumers are called upon to stay at home and respect social distancing, they feel a strong need of support and solidarity. 83% believe brands should use empathic and supportive communication. They expect brands to create a emotional closeness with their community, which would increase the a sense of belonging among its various members, and of being accompanied and less alone in the face of this difficult situation.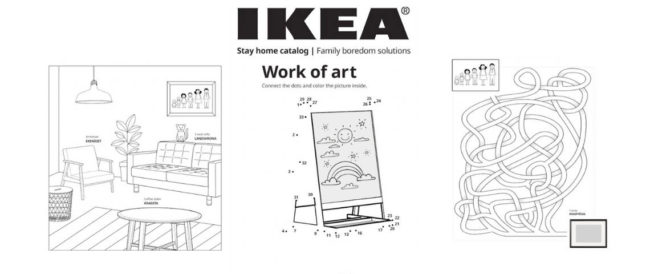 Brands must be

CREATIVE

… But

NOT TOO CREATIVE

!
In these times, brands are called to be creative, to react and adapt to the current situation, while providing entertaining and useful content to their community. But be careful, creativity must be appropriate and in accordance with the period we are going through, at the risk of suffering the heavy consequences of the loss of consumers. 57% of consumers today say they are against too frivolous or humorous advertising and communications actions which sometimes become incongruous or out of step with the current situation.
In conclusion, consumers mainly expect brands to pass on humain before profit and that they use their available means to engage and take concrete action in the face of the crisis. (See our article on this subject: Brands mobilize themselves during crisis)
Empathy, yes, but beware of false notes!

How best to adapt your communication?
Faced with these new requirements, here are the tips of the international group Dentsu Aegis Network, expert in digital marketing, to communicate at best during this period.
First important thing: do not completely stop all communication. Advertising is now affected by the crisis because brands are reluctant to invest. However, withdrawing at an extremely high time of media exposure is a strategic error. The real question must be the relevance of the messages: consumers expect not silence but commitment from business. It is a matter of continuing to communicate in a thoughtful manner and according to certain criteria.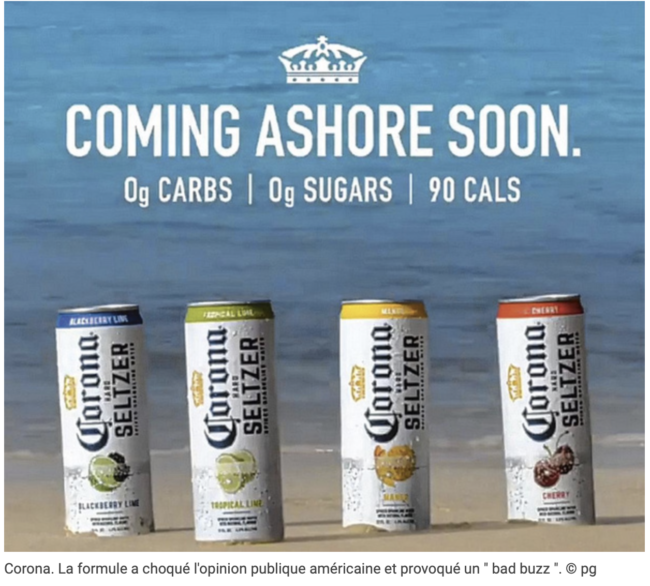 First and foremost, patience. As brands experience an uncertain environment, which creates many doubts and concerns, they should not react hastily but rather remain calm. So you don't have to be quick and superficial if you don't have useful information to share with your audience. Brands need to use this time to think patiently and with this context in mind to find the right way to communicate. Accepting this situation is necessary to adapt, react and rebound as best as possible in the face of the crisis.
Then, given the global and unprecedented scale of the crisis, brands must show sensitivity and empathy. It is necessary today to put the human before profit. To continue to implement the actions planned for the year, not to talk about what is happening or to use a too superficial communication is therefore absolutely to avoid! Today, it is necessary to be sensitive, to recognize the context and to express support to its employees and community, while remaining consistent with its image and its communication strategy.
Below is an example of an inappropriate communication from a Toyota dealership that has created a real "bad buzz" despite the apologies presented.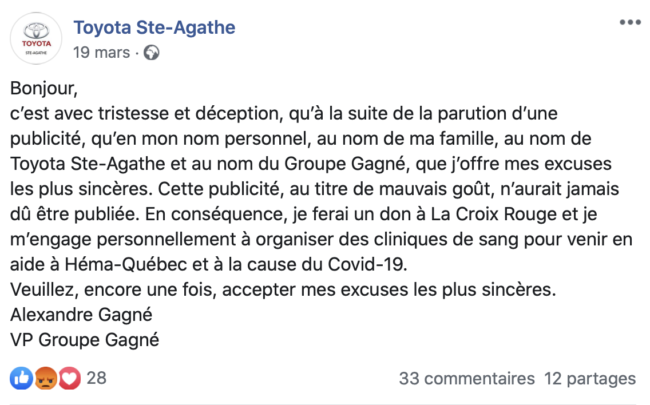 Today, the watchwords of communication are effective and relevant. Brands need to focus on the needs of their current customers, rather than on acquiring new leads. It is important to identify the real needs of customers in order to answer their questions and problems as best as possible, and especially not to broadcast a deaf sales message. The priority today is to help rather than sell. It is therefore necessary to set aside the promotion of products or services for the benefit of advice and activities to improve or animate the particularly affected daily life of your community.
Let's take the example of our client Avesco Rent who returns in image on the installation of sanitary containers for 2 clinics in Lausanne, which serve as a screening area. A post that informs the community about the brand's commitment to this crisis.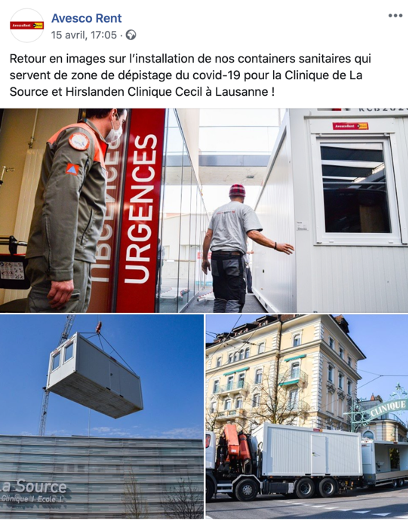 Or our client MindOnSite, who shares through a blog article the best resources to set up online training.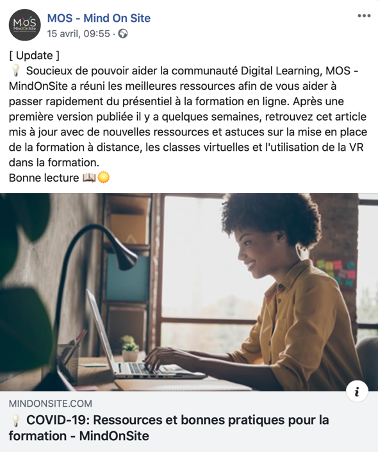 Relevant communication that in these 2 cases meets the currents needs of their community.
Finally, brands must adopt a positive attitude. Expectations are particularly high on the part of individuals who are going through a psychologically challenging period – brands must then bring a message of comfort to their audience. It is not a question of being unrealistic and necessarily using too much humor, but simply of conveying a positive message to one's community in order to restore hope during this period. It will then be necessary to gradually resume a «normal» communication while taking into account the developments of the situation and recognizing the context.
This is the case of BirchBox for example, which posted this message on Facebook at the beginning of the crisis, in order to inform, support and also bring a little comfort and happiness to its followers.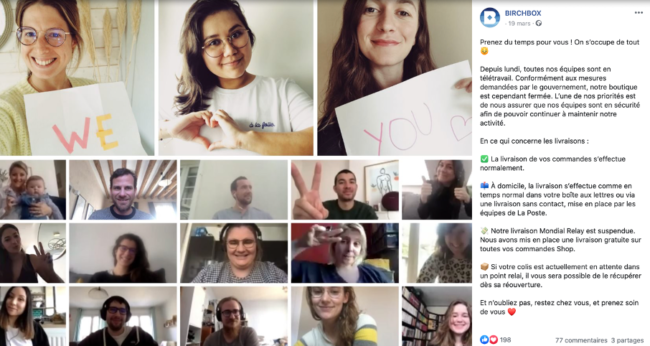 As for communication channels, since the beginning of this crisis, the press, television and radio remain the most popular with the public and demonstrate a powerful reactivity and creativity (check out our article Medias in the midst of crisis communication). However, emails are very popular to communicate transparently with customers about the situation. Be careful, however, to use emails to give clear and useful information and not to broadcast deaf sales messages.
Social networks are obviously at the forefront during this period to follow the various actions and initiatives taken by brands, but also to access entertaining or value-added content. Any brand can turn to content creation to make itself useful. Networks play a key role in creating proximity, trust and commitment to the brand and the company.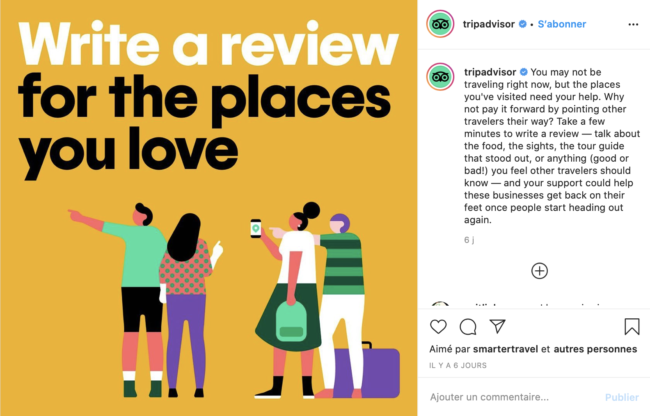 A matter of trust
As you can see, the scale of the crisis behavioural disruptions and there will be no rapid return to "normal".t il n'y aura pas de retour rapide à la « normale ». New roles and challenges are emerging for brands and companies, which need to adapt quickly and use their strengths to help and support not only their consumers but also those most affected by the crisis. In these unprecedented times, they must show more interest for the human than for profit and prove that they too can commit to their customers.
This major crisis is therefore also an opportunity for companies to strengthen their adaptability and the core of their brand capital – CONFIDENCE.
Sources :
Comment la crise modifie-t-elle le paysage numérique ? Uberall / Baromètre Edelman Trust 2020 / Dentsu Aegis Network Singapore / How to avoid Sounding Tone-Deaf during Coronavirus? Marketo. Trouvez l'inspiration pour communiquer sur vos réseaux sociaux dans cet article.
Cover photo : Yougov, Photo by Shusaku Takaoka on Instagram, Photo by Xinzheng on Instagram, Photo by Edwin Hooper on Unsplash.