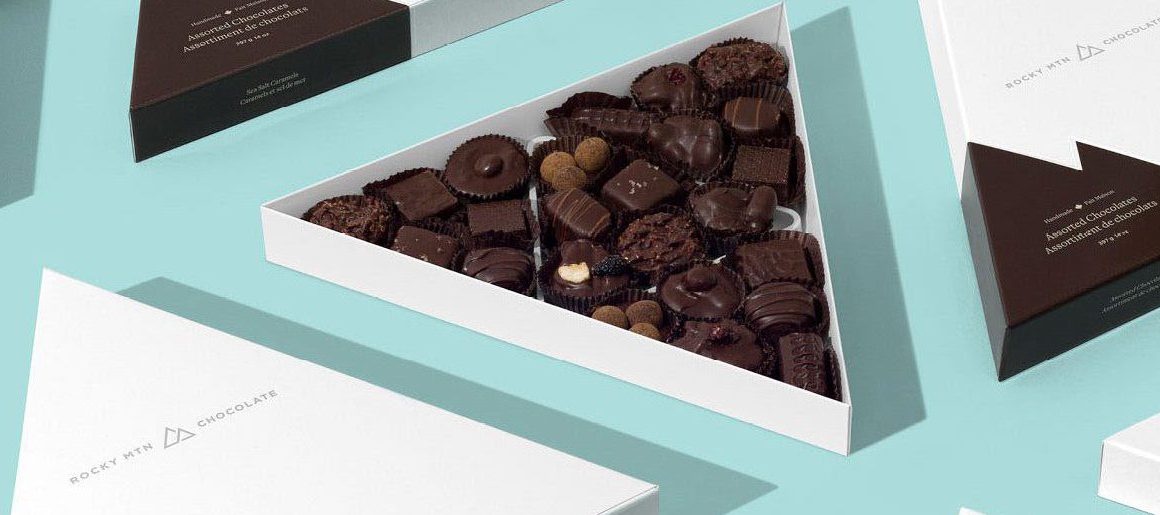 Take a dip in a sea of chocolate!
Autumn, winter, spring, or SUMMER…gotta say "yes" when chocolate calls!
Curious about the latest chocolate bar trends antipod discovered for you? Let yourself be inspired by our summery discoveries in terms of rebranding, visual territory and creative packaging.
#2/3 Visual Identity: Theo Chocolate
#3/3 Creative Packaging Concept: Callebaut
#1/3 Smart Rebranding: Rocky Mountain Chocolate

The Canadian brand Rocky Mountain Chocolate Factory has been entertaining consumers with a huge selection of chocolates and treats since opening its very first store in 1988. While its chocolaty pleasures and the sweet aroma of caramel coming out from its stores catch customers every time, the company logo was dated, being more of an illustration than a functional mark, and the brand identity was no longer able to communicate the core essence of the factory.
Rocky Mountain Chocolate Factory figured it was time to reposition the brand as the number one chocolate factory for both self-indulgent moments and gift giving, by emphasizing the handmade quality of its products. The project involved a full rebranding strategy, store design of 70 locations, signage, new packaging and advertising, and the development of new lines of chocolate bars.
Gift-giving is at the core heart of Rocky Mountain brand DNA, with a focus on getting yourself a treat as well as one to share. This concept is revealed in the new icon, consisting of two united equilateral triangles that symbolize two chocolate boxes –one for you and one for sharing.

The new chocolate bar collections express the care of the chocolate factory for both the flavors and the packaging.
The "Seven Seas" is the perfect chocolate bar for this summer. It combines coastal-grown Chilean cacao with the complex flavors of the Mediterranean Sea salt. It is impossible for us to resist its maritime packaging!
Salva
Salva
Salva
Here are a few other packagings from the new chocolate bar collections, all sparking intrigue and exclusivity.