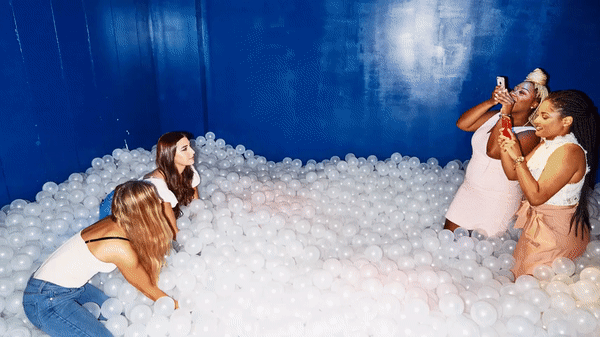 WILL 2019 MARK A PEAK FOR INSTAGRAM?
It looks like it, as brands and consumers start to push back on what has become a cynical culture of visually novel experiences designed expressly to inspire sharing; of influencers who buy their followers; and of curated lives that create FOMO (Fear of Missing Out Syndrom) and anxiety.
At antipod we have selected for you some very interesting articles, showing that the debate is opened about the future evolution of Instagram. Peak or not peak in 2019, you can keep one fact for granted, it is way too early to skip Instagram in your social media plan!
// Instagram backlash //
Signs of the times: August 2018 saw the launch by New York-based Village Marketing of the first Instagram-centric apartment. The 2,400-square-foot SoHo space, which is decked out with plush sofas in millennial pink, was conceived as a place for influencers to stage photoshoots. The rental fee is $15,000 per month. The launch was greeted with parodies and bemusement on social platforms.
An increasing number of restaurants, hotels, bars and hospitalities in general are having Instagramability written into the design brief for creators. Branded "experiences" have reached fever pitch.
Commentators in media and social networks are starting to push back. The New York Times poked fun at the recent string of cynical, shallow Instagram "experiences" in a widely shared piece "The Existential Void of the Pop-Up Experience". Bon Appétit even poked fun at the trend for intense food-picture sharing with a guide to mindful selfie-free eating. As of November 2018, the hashtag #basic on Instagram had been used on over 4.5 million images to signal something over-saturated or ordinary.
Brands are also pushing back. Early in 2018, the New York Times blew the whistle, publishing "The Follower Factor" an influential investigative report exposing the grey market of paid-for followings. Its introduction to the practice of paid-for influence was punchy: "Everyone wants to be popular online. Some even pay for it. Inside social media's black market." Fake influence was also a hot topic at the international Cannes Lions advertising festival. "Celebrities are less trusted now. Influencers are. But nobody really knows what they're getting," said Edelman CEO Richard Edelman. Keith Weed, CMO of Unilever took this further, calling for "urgent action now, to rebuild trust before it's gone forever." Weed said he wants to take action to clear up bad practice in the space, from bots to fake followers in what he called "dishonest business models." The FMCG giant announced that it will now not work with influencers who buy followers.
// We will stop living an Insta life //
The social media honeymoon is over. As people question their screen addiction, the impacts are felt in all walks of life, from dinners where guests demand the phones be put away to changing trends in the beauty industry. "In 2019, people are looking to scale back, simplify their routine and their look," says Melissa Butler, founder and CEO of The Lip Bar, after years where trends were set by Instagram influencers and elaborated makeup tutorials on Youtube. "Social media has played such a big part in pressuring us to show up in a certain way. People are looking to reconnect with who they are, go back to the basics."
// Why It Is Interesting //
With the explosion of each new platform there are periods of enthusiasm, saturation, then backlash. Consumer behaviors also increasingly follow this pattern, from enthusiasm, to creativity, to selfawareness. In a mature social-media landscape, where consumers are more sophisticated than ever, this path has been steeply accelerated. And the brand path is likely to follow suit. Still, keep in mind that, it is way too early to skip Instagram when thinking about your social media plan!
Indeed, if done with authenticity and creativity, marketers and brands still have huge interests in communicating through Instagram. Tools such as "Live" features or "Stories" are bringing a trendy, ephemeral and spontaneous format to connect with communities on a more authentic basis; While the introduction of brand new tools such as IGTV seem to have great potential that has not been exploited, yet.
> Have a look at our latest publication for a larger panorama of SOCIAL MEDIA TRENDS IN 2019.
> And for a more practical insight on today's Instagram tools we invite you to check this comprenhensive review by Iconosquare.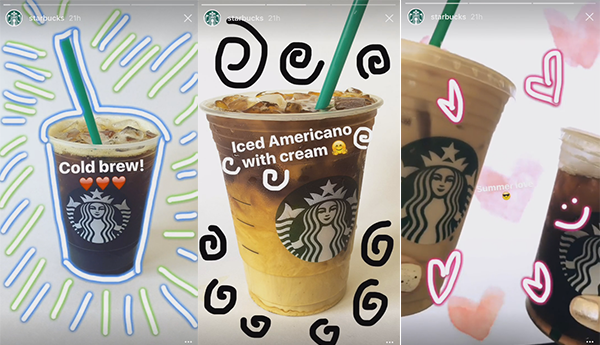 Illustration: Starbucks official instagram account
ARE YOU READY WITH YOUR SOCIAL MEDIA PLAN IN 2019? ANTIPOD IS THERE TO SUPPORT YOU.
Give us a call to shape your social media strategy.
Cover Illustration: A "champagne bubble" ball pit at the Rosé Mansion. By Amy Lombard
Sources: The Future 100; New York Times; 50 Big Ideas for 2019: What to watch in the year ahead