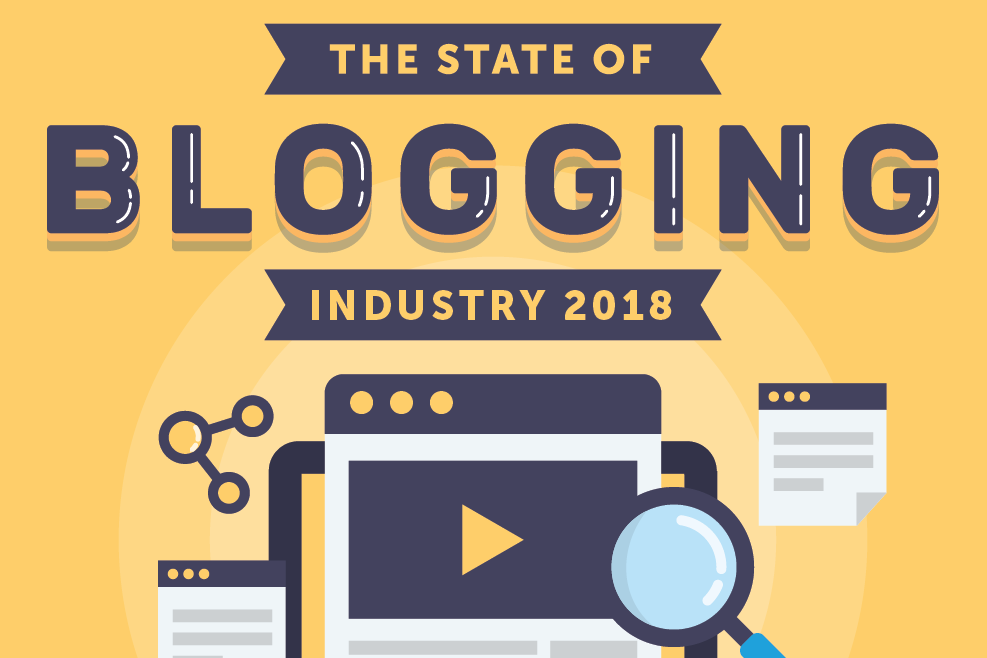 CONTENT MARKETERS TODAY HAVE A LARE ARRAY OF CHOICES WHEN IT COMES TO DETERMINING WHICH MEAN WOULD ENGAGE READERS MORE. THERE ARE INFOGRAPHICS, STAGED PODCASTS AND EVEN THE DIGESTIBLES LISTICLES. HOWEVER, THERE IS ONE CONTENT MARKETING STRATEGY THAT IS HERE TO STAY AND COMMANDS MORE AUTHORITY: BLOGGING.
From its inception in the 90's, blogging has evolved greatly. Gone are the days where bloggers would simply type down their thoughts into articles. Today bloggers have to be concerned with SEO, adding supportive visuals to attract readers' attention and ensuring their content is purely factual.
In year 2018, blogging is expected to become more popular than it has ever been. Below are the major changes and trends to expect this year. We will also jot down a few tips you can apply to your blog.
1 – Higher Word Count
Orbit Media, after conducting a survey on online blogs, realized that the average word length of blogs has increased to 1024 from 857. This is expected to rise in 2018 with the average blog post having approximately 1500+ words. Readers are not necessarily looking for blocks of words, but they want to find all relevant content from one blog post rather than reading through dozens of articles to get the information needed. Moreover, Google recently increased the meta description character range from a maximum of 155 characters to 320.
It may be tedious to create long blog posts. The whole process of ensuring every additional paragraph is interesting in itself certainly requires time and effort. Nevertheless, longer blog posts are beneficial. They will give your blogging page more authority in the field and a higher search ranking.
2 – Increased SEO Value of Blog Posts
Writing informative and interesting articles is not all it takes to draw the numbers. It may contribute greatly towards getting leads to your website, but what will ensure you have large numbers of readers is SEO. Search Engine Optimisation ensures internet users are able to view your blogs first once they search for any related product, service or brand.
In the past, one of the greatest mistakes bloggers made was keyword stuffing. This meant adding the related search keyword hoping to get better ranks but sacrificing readability. This, in turn, hurt their blogs as Google would deter this malpractice. In 2018, smart bloggers are using keywords in strategic positions such as the title, headers, meta descriptions, and within the text body naturally but without overdoing it.
3 – Blog Promotion
Just as mentioned earlier, writing a great article is not all it takes. Many bloggers complain: "I posted my article a month ago and I've only had two visitors ever since." Indeed, many blogs could go unread for years without any promotion techniques being applied. The three major blog promotion trends of 2018 are:
Social media share – You must have seen those blog post shares on Twitter, Facebook, and Tumblr. The source posts an interesting short description or part of the blog and encourages readers to open the full blog post. This is a clever strategy as social media marketing can increase leads by up to 35%.
Link building – This is the more complex promotion technique. It doesn't mean it's not possible. As you write your blog posts, try to reach out to websites that may find your content relevant to their readers and could share your article.
Email marketing – Email marketing is old school but still works today. Get email lists of people that have either subscribed or shown interest in your brand. The email conversion rates are still high even today as long as you optimize the content accordingly.
4 – More Time and Effort Will Be Spent on Crafting Blogs
Well, this is quite obvious. More time will be required to create longer blogs, and more energy will be necessary for doing enough research to create unique and highly informative blogs. The content created will have to stand out from other bloggers who may have similar subjects. There are more than 440 millions blogs in the world, so you will be competing to get attention from readers globally who have a lot of options to choose from.
5 – Add Media to Blogs
Last but not least, media additions to blogs will become more adopted in 2018. Not just the traditional images, but videos and gifs. The number of videos being viewed online is greatly increasing. Almost 5 billions videos are watched on a daily basis on YouTube alone. If you are promoting products or services on your blogs, it would be a great idea to attach short clips of the actual merchandise.
Source: Infographic by Website builder, we definitely recommend you to take a look at it!